Formula Drift regreso a Long Beach para iniciar la temporada 2016 del campeonato PRO. Chelsea Denofa en el BC Racing / GT Radial BMW logro la primera victoria de su carrera para iniciar la temporada en lo mas alto del standing.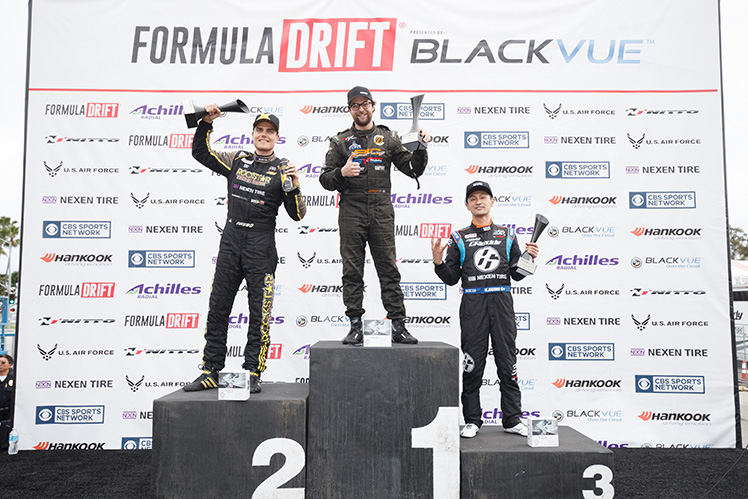 El Round 1 en las calles de Long Beach inicio de manera dramática debido al gran volumen de lluvia que afecto el circuito callejero lo cual hizo de su superficie muy variable, las practicas del viernes se realizarón en condiciones muy peligrosas.
El Sabado un retraso por la lluvia llevo a la Serie a recurrir en una disposición en su "reglamento deportivo" que permite que la serie de renuncie a la clasificación por las inclemencias del tiempo. Los pilotos fueron colocados para el Top 32 basados en su resultado de la temporada 2015.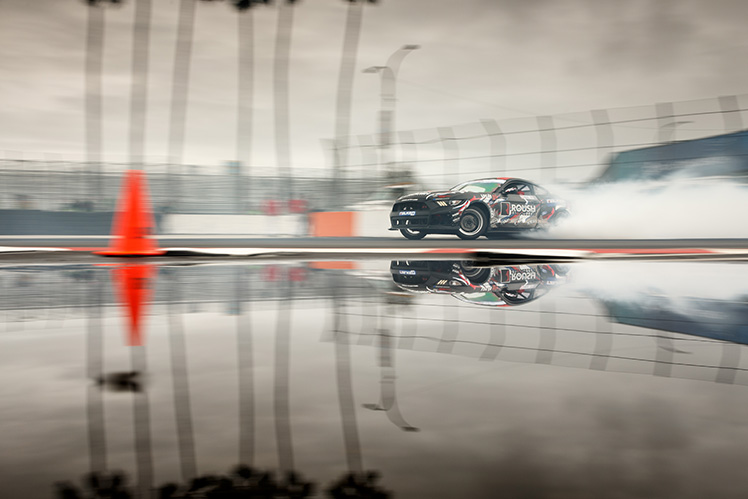 "El clima definitivamente agrego un elemento desafiante, fue un evento lleno de acción para iniciar la temporada", dijo Jim Liaw, Presidente de Formula Drift. "A pesar de la lluvia, los fans vinieron para mostrar su apoyo. Esta temporada desde ya apunta a ser una de las mas emocionantes."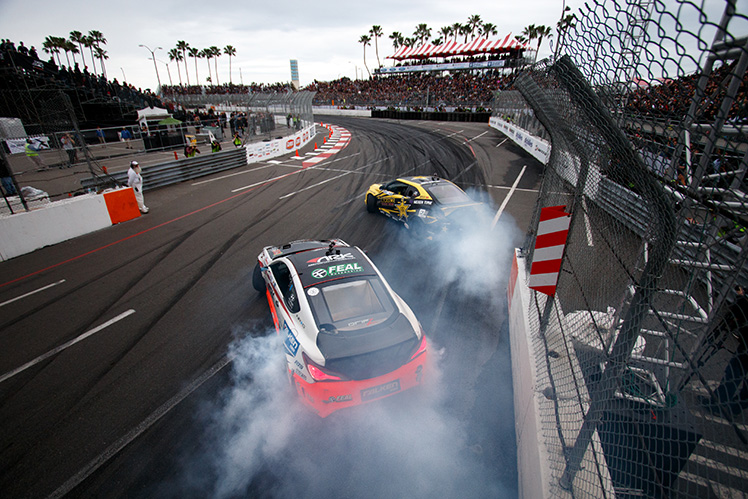 El campeón 2015 y ganador del Round 1 2015, Fredric Aasbo en el Rockstar Energy / Nexen Tire SR by Toyota tC se vio con problemas mecánicos desde el inicio del evento pero aun asi avanzo hasta las semi-finales donde se encontro con Odi Bakchis en el Ark Performance / Feal Suspension / Falken Tire Hyundai Genesis. Aasbo saldría por la puerta grande para avanzar a la final.
El sub-campeón 2015 Ken Gushi en el GReddy Racing / Nexen Tire SR Toyota 86 se enfrentaría a Chelsea Denofa en una emocionante batalla. Denofa vencería a Gushi para enfrentarse al campeón en la final, lo cual le dio a Gushi el tercer puesto. Aprovechando el momento de su primera final, Denofa claramente vencería a Aasbo para llevarse su primera victoria en Formula Drift. Esto también marca la primera victoria como suplidor de neumáticos para GT Radial.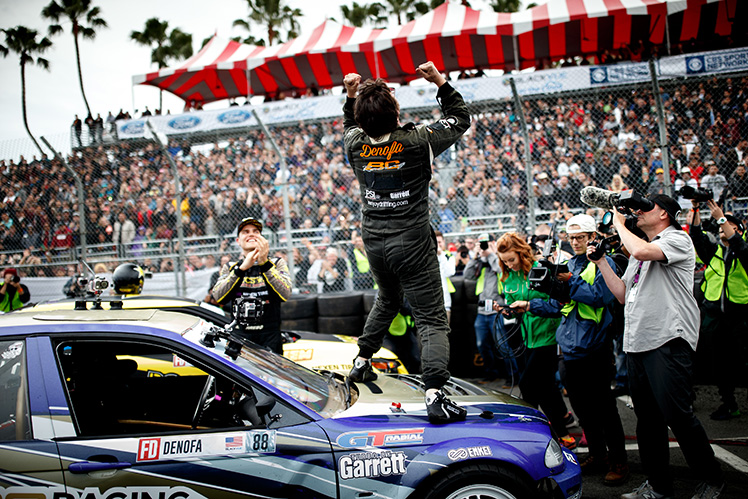 El camino a la victoria no fue fácil para Denofa en Long Beach en las eliminatorias venció al novato del año 2014, al sub-campeón 2015 y 3 pasados campeones. "Quiero agradecer a todos con quienes trabajo incluyendo GT Radial, BC Racing, Turbo by Garrett, y todos los que ayudan con el auto," dijo Chelsea Denofa, ganador del Round 1: Streets of Long Beach. "Hemos trabajado fuertemente por mucho tiempo batallando con fallas mecánicas para finalmente trabajar en conjunto y empujar hasta llegar a la cima."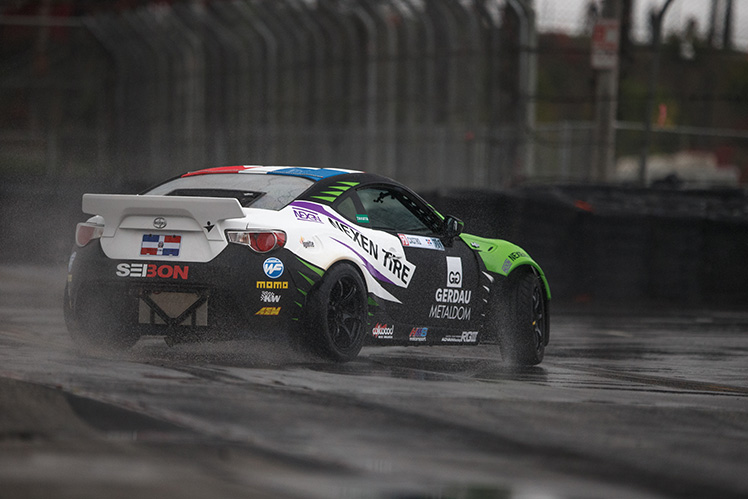 Jhonnattan Castro estreno su nuevo auto, un Scion FRS con motor 2AR construido por Papadakis Racing, el mismo equipo del campeón 2015 Fredric Aasbo, Castro se enfrentaría a Dean Kearney en el top 32, pero luego de una barrida en mientras perseguía le daría la victoria a Dean.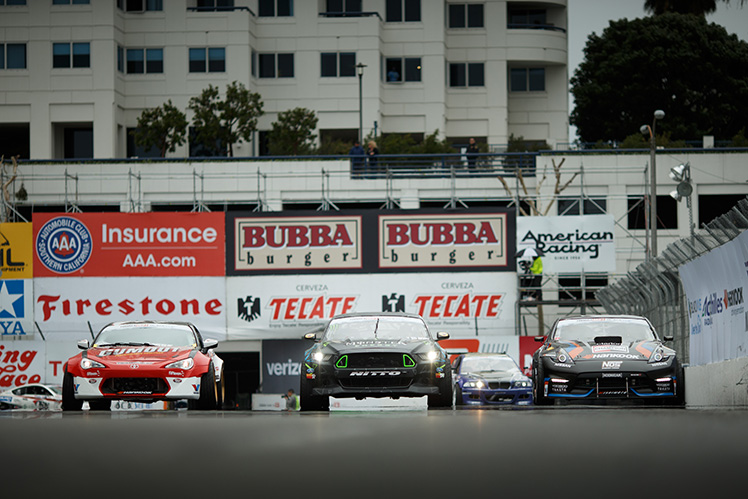 El campeonato PRO 2016 de Formula Drift continua con el Round 2: Road to the Championship el 6 y 7 de Mayo en Road Atlanta y como de costumbre tendremos la transmisión en vivo del evento en nuestro website.
Round 1: Streets of Long Beach Event Results
1. Denofa, Chelsea BC Racing / GT Radial BMW Winner
2. Aasbo, Fredric Rockstar Energy Drink / Nexen Tire SR by Toyota tC 2nd Place
3. Gushi, Ken GReddy Racing / Nexen Tire SR by Toyota 86 3rd Place
4. Bakchis, Aurimas Feal Suspension / ARK Performance / Falken Tire Hyundai Genesis 4th Place
5. Tuerck, Ryan Gumout / Nameless Performance / Hankook Tire SR by Toyota FR-S 5th Place
6. Wang, Forrest Get Nuts Lab / Hankook Tire Nissan S15 6th Place
7. Field, Matt Falken Tire / Driftcave Motorsports Nissan S14 7th Place
8. Gittin, Vaughn Monster Energy / Nitto Tire Ford Mustang RTR 8th Place
9. Forsberg, Chris NOS Energy Drink / Hankook Tire Nissan 370Z 9th Place
10. Kearney, Dean Oracle Lighting Dodge Viper 10th Place
11. McQuarrie, Tyler Mobil 1 Chevrolet Camaro 11th Place
12. Whiddett, Mike Red Bull / Nitto Tire Mazda MX-5 12th Place
13. Ng, Charles Sogun Motorsports / Achilles Tire Infiniti G37 13th Place
14. Essa, Michael Loudmouth Exhaust / Achilles BMW M3 14th Place
15. Bluss, Kristaps HGK / Motul / Achilles Tire BMW E46 15th Place
16. Jones, Jeff DOC Racing Nissan S14 16th Place
2016 Formula DRIFT Championship Presented by BlackVue Standings After 1 Event
1. Denofa, Chelsea BC Racing / GT Radial BMW 100.00 Points
2. Aasbo, Fredric Rockstar Energy Drink / Nexen Tire SR by Toyota tC 80.00 Points
3. Gushi, Ken GReddy Racing / Nexen Tire SR by Toyota 86 64.00 Points
Fotos: Larry Chen